Replace Missing Teeth – Raleigh, NC
Bring Back More Than Just Your Teeth
If you're missing one or more of your teeth, replacing them won't just help you chew more easily and speak more clearly, but it will also restore your confidence, which can dramatically improve your quality of life every single day. Using the solutions detailed below, Dr. Rensch, Dr. Laster, and our team are able to help patients with any number of missing teeth reclaim much more than their smile and oral health. We're ready to provide a treatment custom-made just for you, and to learn more, give us a call today.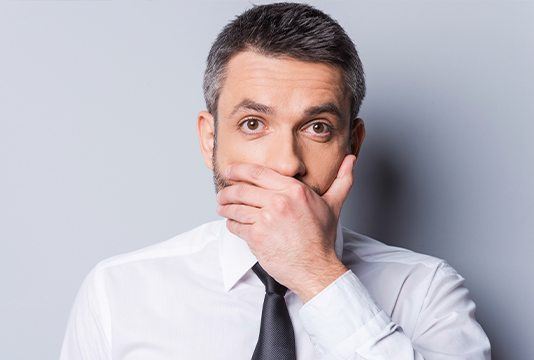 Why Choose Connection Dentistry to Replace Missing Teeth?
Dental Implants Placed & Restored In-House
Fellowship in the International Dental Implant Association
Custom-Made Dentures Look Great & Are Built to Last
What Happens if I Do Nothing?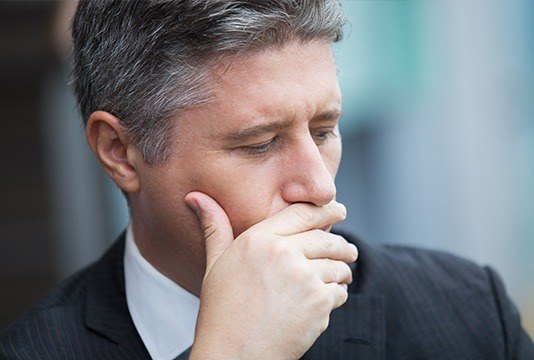 Many patients choose to ignore their missing teeth, especially if they're located towards the back of the mouth where they can't be seen. This is a mistake, however, as even a single missing tooth can threaten the stability of the entire smile. The remaining teeth are likely to shift into the open space over time, which can lead to misalignments and jaw pain. Plus, patients with missing teeth are more likely to develop gum disease as well, which is one of the leading causes of tooth loss. Fortunately, simply replacing a tooth as quickly as possible can easily help someone avoid all of these headaches.
Dental Bridges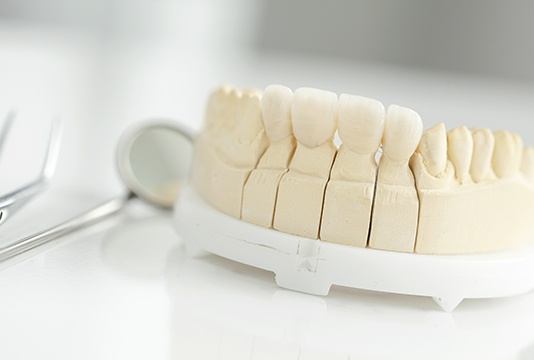 Dental bridges are a type of prosthetic we can use to replace one to three missing teeth in a row, and similar to the type of bridge you drive on, they're held in place using anchors on either side. Dental crowns are placed on the teeth right next to the absent ones, and these are bonded directly to the prosthetic to give it stability. In addition to looking natural, our bridges are also designed to stand up to everyday chewing forces as well, allowing a patient to eat whatever they like.
Dentures & Partial Dentures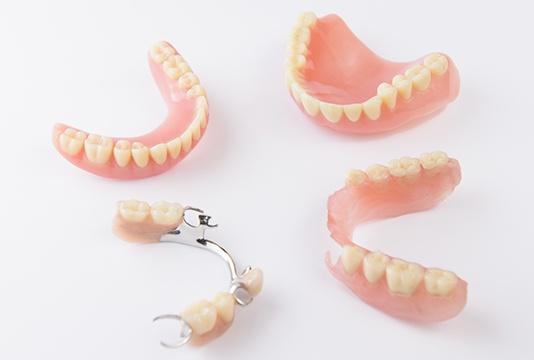 For patients missing teeth throughout their mouth, or even those missing an entire row, dentures provide an effective and affordable way to bring back several teeth at the same time. Partial dentures are designed to fit among the remaining teeth like the last piece of a puzzle, while full dentures sit directly on the gums to restore a full arch. We can provide traditional removable dentures, or our patients can experience an even better fit and premier function with a dental implant retained prosthetic.
Learn More About Dentures and Partial Dentures
Dental Implants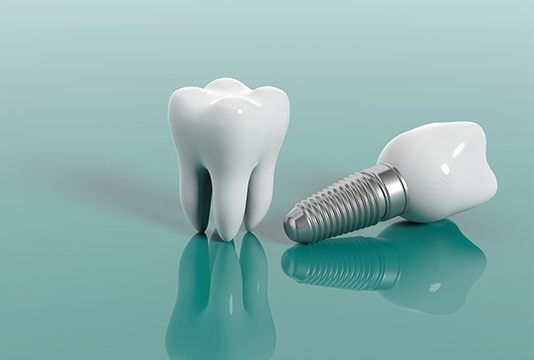 Most tooth replacements work the same basic way, in that they only bring back the part of the tooth that you can see. While these help with aesthetics, they lack the strength of real teeth, which inevitably makes them wear down and likely to break over time. With dental implants, however, the entire tooth is brought back, including the root below the gum line. The end result is a prosthetic that not only looks great but can be trusted to last for decade after decade as well.