Advanced Dental Services & Technology – Raleigh, NC
Bringing Dentistry Into the Modern Age
It's one thing to have the right dental expertise and education, but it's another thing entirely to provide technology to make administering that care more comfortable to patients. Additionally, having the right technology can ensure that your unique dental problems can be solved and your treatment outcomes are improved. Thanks to our team's continuing education, we can provide cutting-edge technology to Raleigh while still maintaining a personal and small-town feel for your care.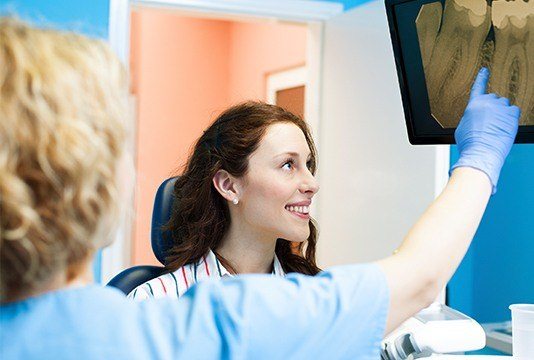 TMJ/TMD Therapy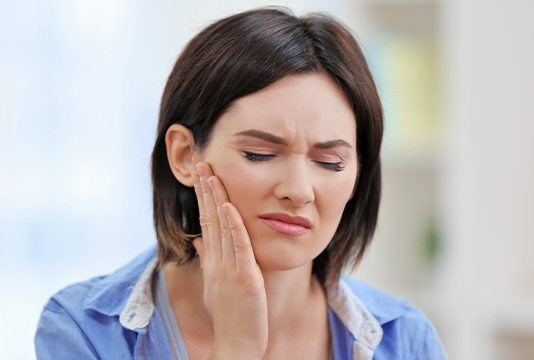 Does your jaw experience chronic pain every time you wake up? Do you notice popping or clicking of the jaw when you chew food? When overworked, the joints responsible for your jaw's many complex movements can become inflamed and cause long-term discomfort. To address these areas, also known as the temporomandibular joints, we provide TMD diagnosis and treatment. With the right approach, we can remove your chronic pain and reduce your symptoms dramatically.
Intraoral Camera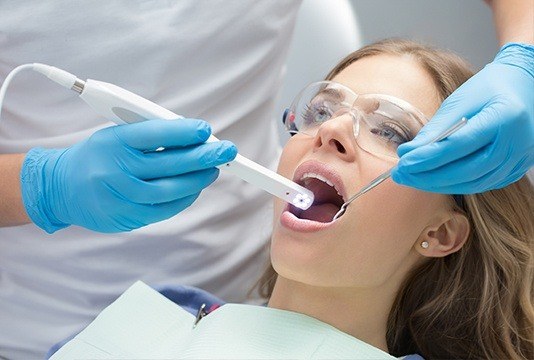 No one likes to be left in the dark when it comes to the status of their oral health. With the help of an intraoral camera, which is a small, handheld, camera-tipped device, we can show you exactly what your teeth, gums, and other oral structures look like in real-time. We use the Sopro Life and Sopro Care cameras to show you the exact condition of your smile, making it much easier to explain precisely why you may need a restoration or other treatment completed.
Digital X-Rays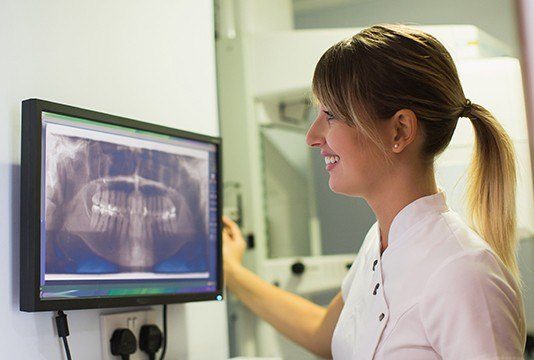 Routine X-rays help us confirm aspects about your oral health that we wouldn't otherwise be able to do, making them an extremely important diagnostic tool. Of course, that doesn't mean we haven't chosen to go digital at our office. Digital X-rays are far more efficient to complete and they emit significantly less radiation than their traditional counterparts. In fact, patients can expect up to 80 percent less radiation. With that said, we'll always provide the proper protection to ensure your safety.
Soft Tissue Laser Dentistry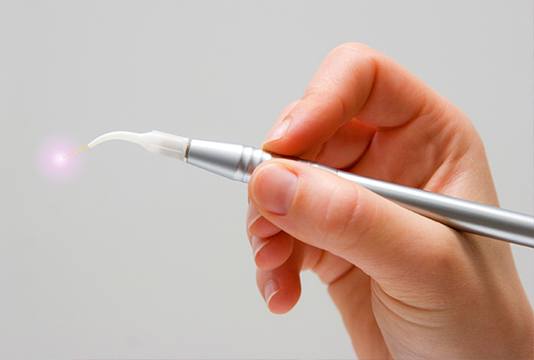 Laser dentistry has been around for quite some time now, but many dental offices have not yet taken the time to incorporate this revolutionary technology into their dental office. With our soft tissue laser, it's easy to perform basic dental treatments in a far more conservative fashion. For example, when performing periodontal therapy, it's easier to maintain as much natural gum tissue as possible and only remove infected tissue in the process. Healing time in post-operative care is also much faster and often requires no stitches!
Cavity Detection System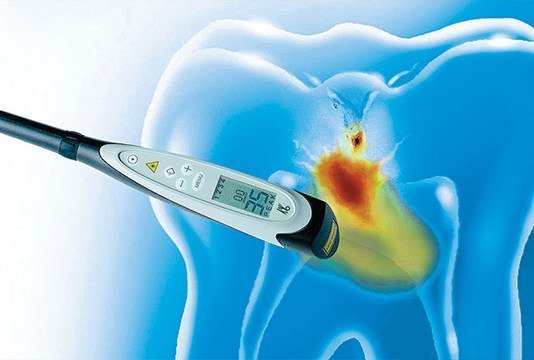 Preventive care is a major focus here at the dental office, especially when it comes to cavities. The sooner we can catch the early development of cavities, the easier it is to prescribe treatment that stops their development in their tracks. With our early cavity detections system, we can confirm the presence of and stop the progression of cavities, helping you save money and time on future dental care costs.
3D Printing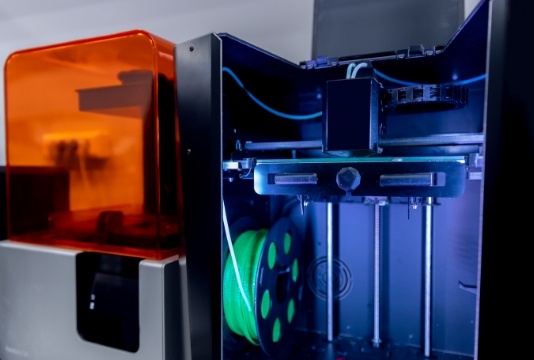 Our 3D printer gives our team the ability to do many things that used to require an outside lab, but now we can take care of them in-house to help patients save time! With it, we can create our own athletic mouthguards, nightguards, surgical guides, retainers, and even mockup dentures in a matter of hours, which is much faster than the weeks of wait time that come with a lab. Even better, if a patient ever loses an appliance or needs an adjustment made, we can do this as well in less time than ever before.
CBCT 3D Imaging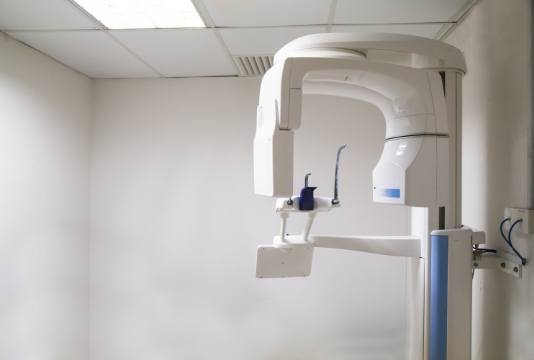 Our CBCT scanner creates a highly detailed 3D map of your dental anatomy using several X-rays the device captures from multiple angles in a matter of seconds. This image is much more comprehensive compared to a regular X-ray, and it gives us all the information we need to make accurate diagnoses, find potential issues that are hidden from the naked eye, and create personalized treatment plans. We can even use it to establish a baseline for your oral health that allows us to easily monitor gradual changes over time to your teeth and jaws.
Digital Intraoral Scanning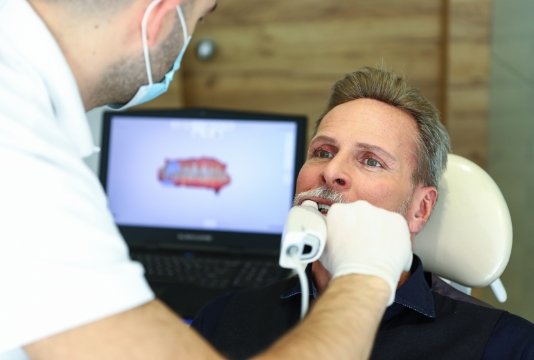 Physical dental impressions are now a thing of the past! With a small device, we can quickly scan a patient's mouth to generate a perfect digital model of their teeth and bite. This information can then be instantly sent to a dental lab and used to help create someone's denture, veneers, crown, or a wide array of other treatments. Compared to the old way that involved messy dental putty, this approach is faster, cleaner, and much more comfortable.
Sleep Apnea Testing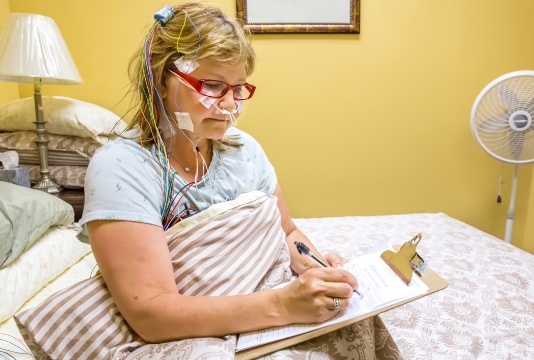 If we suspect that a patient has sleep apnea, the only way to confirm it is for them to complete a sleep test. Originally, this would require them to spend a night in a lab, which isn't exactly the most restful experience! Now, we can send someone home with a small device that allows them to do the test themselves at home. Small and wearable, it will track someone's heart rate and breathing throughout the night. This information will be recorded by the device, and it will be evaluated by a trained sleep physician to determine whether or not someone has sleep apnea.