Dental Implants – Raleigh, NC
Not Your Standard Tooth Replacement
Dental implants truly stand alone in the world of dentistry. For patients with missing teeth, they offer the best of everything when it comes to aesthetics, strength, and durability with one treatment. A small titanium post is placed within the jawbone to restore the root of a tooth, and this provides the foundation for the new teeth on top. They are the next best thing to natural teeth, and now, you can get this state-of-the-art treatment right here in Raleigh thanks to Dr. Rensch and Dr. Laster. Are you ready to rebuild your smile? To learn more about implants and what they could do for you, give us a call today.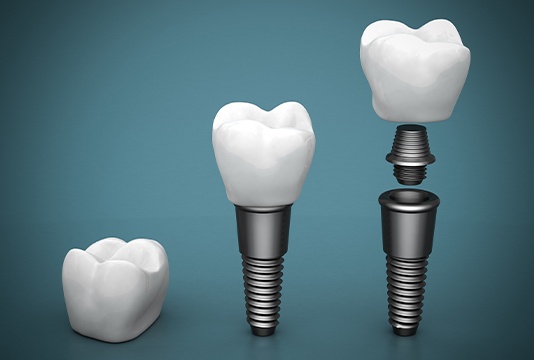 Why Choose Connection Dentistry for Dental Implants?
Implants Placed & Restored In-House
Fellowship in the International Dental Implant Association
Restorations Custom-Made for Every Single Smile
Benefits of Dental Implants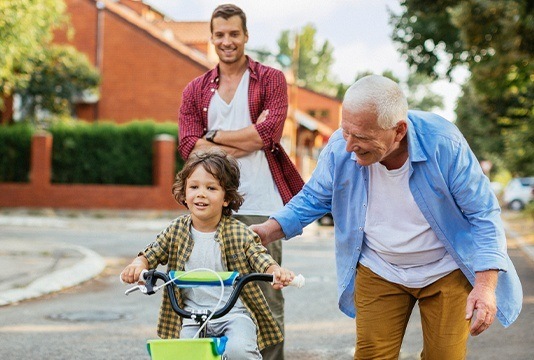 Compared to more traditional tooth replacements, dental implants offer a number of distinct advantages:
Rock Solid: Because dental implants are held within the jawbone just like real teeth, patients are able to eat whatever they like without having to worry about their prosthetic shifting or breaking.
Unmatched Beauty: Topped with 100% custom-made porcelain restorations, dental implants have a lifelike appearance that blends completely with any smile. Only you and your dentist will know which teeth aren't your own!
Bone Preservation: The jawbone naturally starts to shrink after tooth loss, but dental implant roots can help restore its strength and shape by stimulating new blood flow and tissue growth. Right now, implants are the only treatment available that can do this.
Simple Maintenance: Taking care of implants is easy—patients just have to brush and floss like normal to help them last. Speaking of which…
Incredible Longevity: Dental implants are often able to last for the rest of a patient's life without needing to be replaced or seriously repaired.
Indications for Dental Implants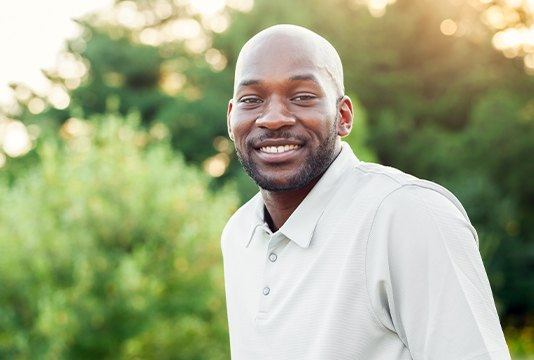 Any patient with missing teeth can be a good candidate for dental implants. A person simply needs a mouth and jawbone healthy enough to support the new roots. Once this is confirmed with an exam, our dentists can use the following restorations to close the gap(s) in a patient's smile.
Missing One Tooth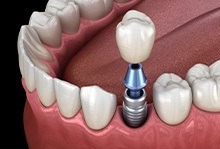 Instead of cutting down the nearby teeth to support a bridge, a dental implant root topped with a single porcelain crown can be placed into the smile without disturbing the remaining teeth, better preserving a patient's remaining dental structure.
Missing Multiple Teeth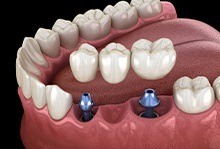 Rather than replacing each tooth with individual implants, a small number of posts can be attached to prosthetics like a bridge or partial denture. This will give the new teeth a much stronger hold and more comfortable fit compared to traditional dental prosthetics.
Missing All of Your Teeth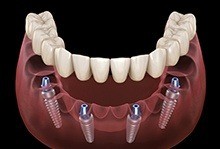 For patients missing an entire row of teeth who are unsatisfied with their current denture, we can give them a set of teeth they never have to worry about again using just four to six implants placed within the jaw. These will provide a strong foundation for a new denture that will never slip, and it can be trusted to maintain its initial fit for several years.
Understanding the Cost of Dental Implants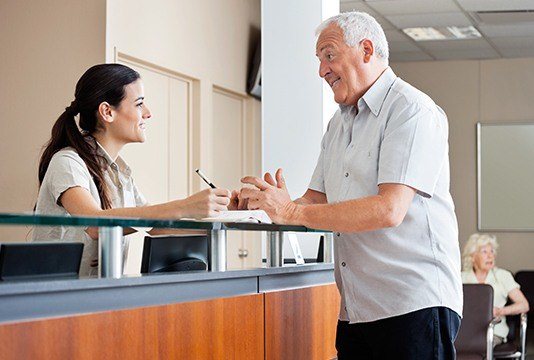 Dental implants are extremely versatile, and because of this, the cost of the procedure can differ greatly from patient to patient. Factors such as how many teeth are missing, where they are located within the mouth, and the condition of the jawbone can all influence the final price. We can let you know exactly what you'll be expected to pay for implants when you come to see us for an in-person consultation, ensuring you begin your treatment without any questions.
Because of the advanced techniques and high-quality materials required for implants, they do tend to cost more upfront compared to regular dentures and bridges, but they are guaranteed to last multiple times longer, which actually makes them more wallet-friendly overall. Instead of having to get a new bridge or denture every five to seven years (which is normal), a patient can undergo a single implant treatment that will easily last for 30 years or more.